Breath & Blood Tests Defending Your Rights, Empowering Your Future
​Farmington Hills Breath & Blood Test Defense Lawyer
Defending OWI Suspects in Oakland County & Throughout Michigan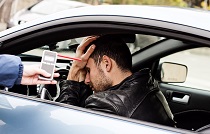 ​One of the many ways that law enforcement will verify if a driver is indeed operating under the influence of alcohol is by administering a breath or blood test. These are done to check the blood alcohol concentration (BAC) of the driver. The state of Michigan requires all drivers to consent to all OWI tests if they've been arrested for drunk or drugged driving. A test refusal will often lead to criminal penalties and driving privilege suspension, also known as "Implied Consent Violation."
If you refuse to take the breath and blood test, the officer must provide you with a temporary permit "paper license" so that you can drive for 14 days while you have the right to file an appeal. This appeal must be made within 14 days of your arrest. It is vital to contact a Farmington Hills blood and breath test attorney immediately after your arrest to help you fight to keep your driver's license and advise you what steps to take. I, Daniel D. Hajji, Attorney at Law, represent clients who face OWI/DUI charges in Oakland County, and my aggressive investigations help them get their charges reduced or even dismissed. I have extensive experience handling OWI/DUI cases, and I work tirelessly to get the best possible results for my clients.
I am available 24/7. Contact me today for a free consultation at (248) 599-0054!
Are Michigan Breath & Blood Tests Always Accurate?
Although a prosecutor may try to convince the judge or jury that chemical test evidence is definitive proof of intoxication, this is far from true. Breath and blood tests aren't scientifically reliable. Many factors other than alcohol can affect the results of a breath and blood test. For example, results can be influenced by improper machine maintenance; even mouthwash can throw off the results. Breath tests are especially vulnerable to inaccurate readings, which means drivers can challenge the results.
Test results can also be affected by things like:
Incorrect administration or calibration
Certain medical conditions
Dentures or other dental issues
Burping
Experienced & Trustworthy Defense for Failed Blood & Breath Tests
Just because you failed a breath or blood test does not mean that it will result in an OWI or DUI conviction. I have seen firsthand how these tests can be inaccurate and faulty. I am equipped to assist you by combating these charges made against you, primarily by challenging the evidence brought by the prosecutor. By exhaustively researching your case, meticulously preparing, and aggressively suppressing any evidence that might be questionable or inaccurate, I may be able to weaken the prosecutor's case and get your charged reduced or your case dismissed. If you choose to work with my firm, you can breathe easier knowing that your future is in completely trustworthy hands.
Have you failed a breath or blood test? Don't hesitate! Contact me today to help combat the charges held against you: (248) 599-0054.
I work with those in Farmington Hills, Bloomfield, Troy, Southfield, Rochester Hills, Pontiac, Royal Oak, Novi, and all surrounding areas.
Coverage in Prominent National and Local Media Outlets