Weapon Charges Defending Your Rights, Empowering Your Future
​Farmington Hills Weapons Charges Attorney
Weapons Charges Defense Lawyer in Oakland County & All of Michigan Since 2002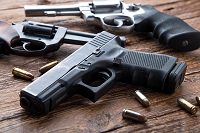 ​If you own a weapon without legally required documents, you may be vulnerable to weapons charges. Authorities treat weapons charges seriously in Michigan, so they can carry serious life-altering penalties.
Weapons charges are typically charged as a felony and come with significant amounts of jail time, heavy fines, and other consequences. In addition to incarceration, those facing weapons charges might receive fines, probation, and a permanent criminal record which can bar them from certain professional licenses and employment.
If you've been charged for illegal possession of a weapon, you need to speak with a Farmington Hills weapons charges lawyer as soon as possible. Even if a weapon which may not belong to you is found on your property or nearby your person, you could be facing punishment from law enforcement for something you didn't do.
A person with a felony conviction can apply to have their right to own a gun reinstated if five years have passed since they finished their sentence, and they are not considered to be a danger to others.
You need a criminal defense lawyer who can fight aggressively for your rights and your future. I, Daniel D. Hajji, Attorney at Law, have defending the rights of people throughout Michigan since 2002—I have the experience, resources, and skill to protect you from intense state penalties.
Call me, an experienced Oakland County weapons charges attorney, today. Consultation is free when you call (248) 599-0054.
Michigan Weapons & Gun Control Laws
One of the most common types of weapons charges in Michigan is possession charges. Though the state does not require gun owners to have a license, they do require them to pass a gun safety test and to register their weapon. Additionally, those looking to buy a handgun need to pass a background check. Carrying a concealed weapon is illegal unless an individual has a permit to do so.
Illegal weapons include:
Machine guns
Automatic weapons
Armor-piercing ammunition
Shotguns with shortened barrels
Rifles with shortened barrels
Silenced and muffled weapons
Weapons are banned in the following areas:
Churches
Daycares
Hospitals
Courthouses
Penalties for Weapons Charges in Michigan
If a person is caught in possession of an illegal firearm, they face felony prosecution and penalties of up to $2,500 in fines and up to 5 years of imprisonment. As with many other charges, repeat offenders face more severe charges.
In addition to possession, weapon manufacturing and sales are grounds for criminal weapons charges. Using coercion on others by means of a weapon such as a firearm, gun, or knife to commit a crime is also a weapons charge and carries extreme penalties.
The following parties are barred from owning guns:
Individuals under 18
Individuals with felony convictions
Individuals with mental health problems
Though individuals with prior felony convictions cannot buy a gun, their right to do so may be restored after a set amount of time.
Violent Crimes & Weapons Charges
When a person commits a violent crime with a weapon, they will face more significant penalties than they would have with no weapon. For example, robbery is punishable in Michigan with up to 15 years in prison. However, if the robbery was accomplished with a deadly weapon or the threat of one, the state increases the penalty to life in prison.
Call a Farmington Hills Weapons Charges Attorney:
(248) 599-0054
It is important to act quickly when dealing with criminal charges. The sooner you speak with an attorney, the more time your lawyer will have to build a strong defense. Weapons offenses are most often charged as felonies and rarely charged as misdemeanors. The severity of the punishment varies depending on what was done with the weapon and whether anyone injured. For a felony weapons offense, the minimum jail time sentence is four years with a maximum sentence of twelve years in prison.
I operate my firm by focusing on each client's rights, goals, and needs. If you are being charged with a weapons offense, I will fight to protect your future and ensure that you have the strongest possible chance of a good outcome. My investigation may be able to prove that the evidence procured by law enforcement was retrieved illegally. Without an attorney, you may have no defense and could possibly face the full punishment under the law. After practicing law in Michigan since 2002, I am equipped with the experience to represent you, get your charges reduced, or even get your case dismissed.
Call me today for a free and confidential consultation at (248) 599-0054. I am ready to start your defense today!
I serve those in Farmington Hills, Bloomfield, Troy, Southfield, Rochester Hills, Pontiac, Royal Oak, Novi, and all surrounding areas.
Coverage in Prominent National and Local Media Outlets